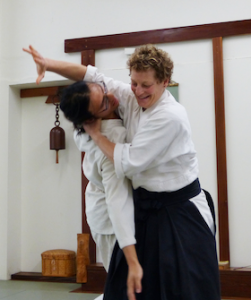 Kayla Feder – 6th Dan
Kayla Feder Sensei began her Aikido training in 1973 at the age of 9 and has trained continuously for 43 years. She studied directly under Morihiro Saito Shihan, 9th dan traveling to Iwama, Japan in 1980. Saito Shihan was an apprentice to the founder, Morihei Ueshiba (O'Sensei). He was one of O'Sensei's longest training students. In subsequent trips to Japan Feder Sensei trained with a number of other Shihan who trained under the founder.
Feder Sensei has also trained with and been strongly influenced by Doran Shihan, Nadeau Shihan, Saotome Shihan, and Ikeda Shihan. She received the rank of 6th dan in 2004.
Feder Sensei has taught seminars throughout the US, Europe, and Israel. In addition to her Aikido accomplishments she received a Masters degree in Holistic Health Education from JFK University in 1998.
Feder Sensei's teaching style supports the individual growth of each student. She has created a warm and welcoming community at Aikido of Berkeley. Feder Sensei also includes yoga and meditation practices as part of the training at Aikido of Berkeley.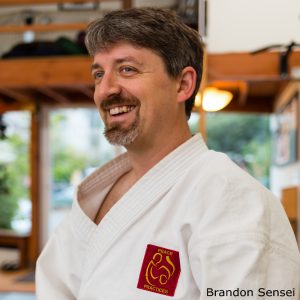 Brandon WilliamsCraig Ph.D. – 5th Dan
Along with teaching at Aikido of Berkeley, Brandon is the Founder/Chief Instructor of Free Aiki Dojo and Golden Bears Aikido at UC Berkeley. His students learn to Embody Nonviolence through somatic conflict resolution, traditional aikido techniques paired with language and improvisation that results in Conflict Done Well. This body-based conflict facilitation method, also called Martial Nonviolence, is the heart of the Peace Practices curriculum being offered by ABC and practiced by students from four to 84 years of age. He resides in California with his wife and two children, and teaches nationally and internationally as his executive duties permit.
Ricardo Leigh – 4th Dan
Test Text: George Box Sensei (6th Dan) has been training for over twenty years and calls Berkeley his home. George Box's enthusiasm is translated into explorations of harmony and Aiki.
Jamal Granick Ph.D. – 4th Dan
Jamal Sensei began studying Aikido in 1981 at the NY Aikikai and have trained in many dojos since then, making Aikido of Berkeley his home since 2006. In addition to Kayla Feder Sensei, other teachers he has studied with and/or and been inspired by include Kato Hiroshi, Hal Lehrman, Harvey Konigsberg, Steve Kauffmann, Claire Keller, Bruce Bookman, Jimmy Friedman, Jalal Heery, and Yves Chauvin. Jamal has also dabbled in Chinese internal martial arts. "I believe Aikido is best understood as a practice for self-development and that it serves students best to take responsibility for their own learning".